Dathan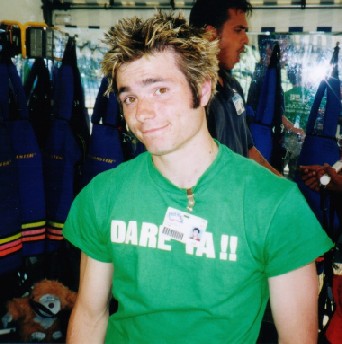 This is Dathan.
We saw him from afar at Wild Waves & Enchanted Village. We were in line to go on the Wild Thing, and he was manning the I-5 dive booth. He looked like 2 hot guys from school, combined, so we combined their names to get his name. The only other info we can gather is that he has dark hair and highlighted it.
Alex and Allison nominated him because...
Alex: "he's hot and yet mysterious because we don't even know his name. He's on my desktop and I wonder... will I ever know who he is? oh and I love his eyebrows. nice arms too."
Allison: "Okay, just look at him and then tell me what you think. I am also quite weird because i have his picture resting above my bed on a shelf. I gaze into his soft brown eyes and study his soft silly mouth. I long to touch his sideburns. I can't help but wonder what he was thinking when the picture was taken....maybe that he loves me? No, only in my dreams. So he is nominated because he is mysterious and very very SEXY!! (props to our friend Sheena who asked one of his collogues to snap us the shot.)"

Alex rates him: ♂♂♂♂
Allison rates him: ♂♂♂♂

Silly Scale? You decide.